Image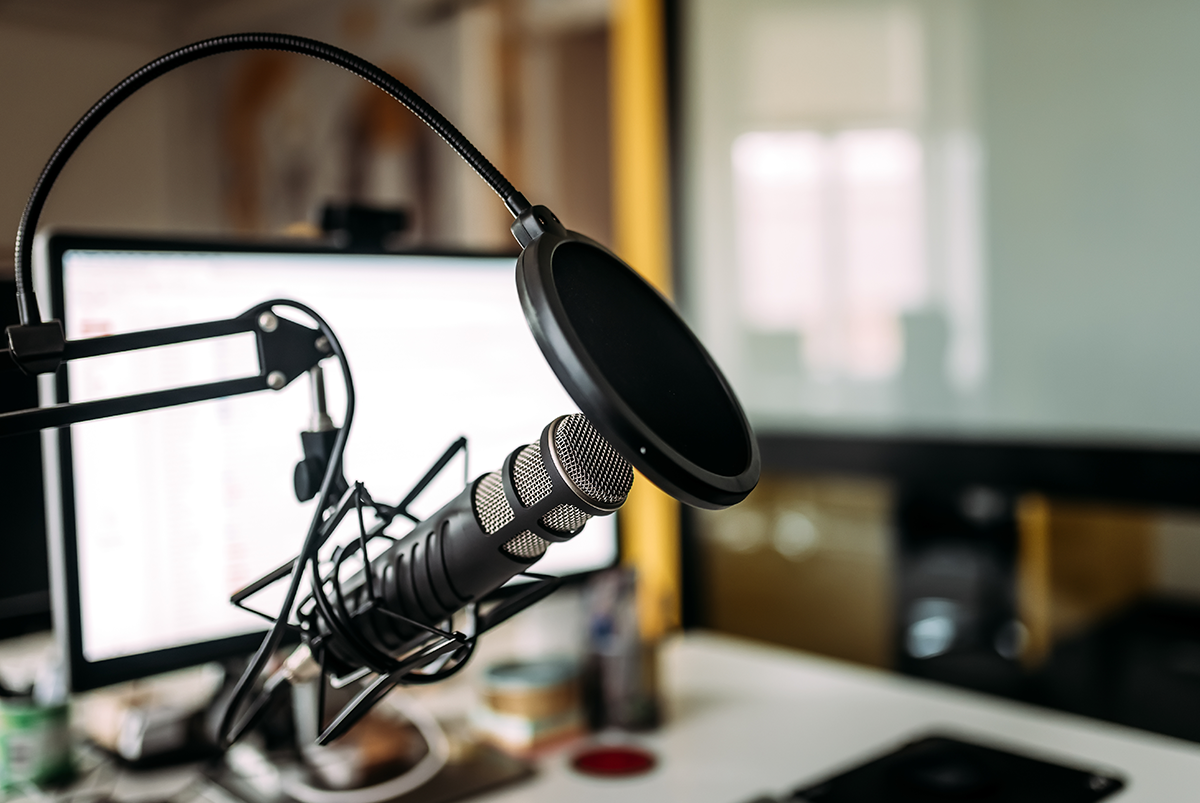 Podcasting Across the Curriculum
School-age kids are huge consumers of podcasts. In 2021, there were 850,000 active podcasts, with over 48 million total episodes, available in over 100 languages. Over 51% of Americans report listening to podcasts. This demographic is trending younger every year. Educators who want to better engage students can capitalize on this trend. Kids want to create content in the same medium in which they consume it. Podcasting brings relevancy to every single subject area.
Experienced teachers across all grade levels and subject areas will attest that many students can tell what they have learned in greater detail and more quickly than they could write about it. Podcasts created in schools harness students' ability to share what they know through speaking in a conversational way. Contemporary podcasting began in the 1980's with "audio blogs," followed by Carl Malamud's "Internet Talk Radio," and additional online radio shows during the growth of mainstream internet use in the 1990's. Those early audio blogs and shows were asynchronous and on demand, just like today's millions of podcasts. In the period between 2000-2003, the advent of RSS syndication, mp3 format, the iPod, and iTunes, podcasting as we know it became the new standard. 
"Podcasting Across the Curriculum" is the "first-ever podcasting course for K-12 schools. Developed by Dr. Jim Frankel, founder and director of MusicFirst, the curriculum is applicable in most any classroom and for any subject. Dr. Frankel's vision was to help teachers empower their students by enabling the creative expression of what they have learned. The curriculum is a ready-to-use solution for teachers with no recording, podcasting, or music composition experience, and is applicable for experienced music and technology teachers too.  
The course includes:
20 lessons with student handouts and assessments
20 full projects across a broad array of subject areas, with student handouts and assessment rubrics (math, science, history, language, physical education, arts, etc.)
10 bonus project ideas
The coursework starts with the origins of podcasting and includes exemplary podcasts on many subjects. Step by step, the teacher and learner alike are guided through strategies to develop podcast content and acquire the skills needed to record, edit, and distribute podcasts. Along with objectives, materials, instructional procedures, the teacher side of each lesson includes the International Society for Technology in Education's "ISTE Standards" for students. The student view in each lesson includes printable instructional materials, links to quality resources, lots of images, assignments, and projects.
Specific, detailed technology-related instructions for hardware and software are included in the course materials. Dr. Frankel recommends Soundtrap as the recording, editing, music composition, and audio production software. His top hardware recommendation is Focusrite's  Vocaster One Studio interface, which comes with a microphone and headphones. (The core content of the curriculum is applicable with any music production recording software and hardware.) 
Recently, Dr. Frankel met with Dr. Lee Whitmore, Vice President for Education at the Focusrite Group, and Dan Behar, Global Channel Manager of Soundtrap for Education. They discussed how the synergy of curriculum, hardware and software can be transformational for students. Their wide-ranging discussion covered these broad questions:
Why Podcasting?
Podcasting is sometimes called the 'duct tape' of education. Purposeful audio recordings can bridge gaps in so many ways: 
Student ownership of learning
Vehicle for creativity
Check-in and connect with students; hear their voices - literally and figuratively!
Brings relevancy to every single subject area - kids are listening to podcasts on their own
Alternative assessments to improve  equity and comprehension, i.e. students with special needs or whose written language skills may not match their other achievement levels
Assess understanding beyond formal written evaluations
Build an ongoing portfolio to demonstrate and build on mastery
Technology skills for making a podcast = career readiness in media production, a must-have for all fields of employment
Dan Behar (Soundtrap) outlined these additional imperatives for including podcasting in the mainstream curriculum:
The 4c's of 21st century learning: creation, communi-cation, critical thinking, collaboration
Collaborative project-based learning helps students develop hard and soft communication skills
Speaking and listening standards
Engagement in learning and communicating about students' own learning (metacognition)
Meeting students where they are: they want to create, and develop storytelling and narrative-building skills
Amplifying student voices in public, or in private
Elevating student perspective and interdisciplinary learning
Community building: long form audio products can work with place-based education (PBE) and culturally responsive teaching (CRT) goals
Why Focusrite?
Millions of musicians and home recording artists are familiar with Focusrite and their Scarlett line of audio interfaces. Dr. Lee Whitmore outlined some of the main reasons Focusrite is becoming popular in school settings. Their products are known for:
Exceptional fidelity (quality sound capture and playback)
Best-in-class reliability and durability (crucial in school settings!)
Vocaster interfaces, microphones and headphones provide a "low floor and high ceiling" – ease of use, superior results.
Sleek, simple, error-eliminating design and cabling connections
Built-in audio enhancement presets – a huge advantage for novice and experienced podcasters.
The Vocaster One and Vocaster Two were designed speci" cally with podcasting in mind. Both accommodate a "host" microphone, 'call in' guests, and have handy 'mute' buttons. The Vocaster Two includes two microphone ports plus a Bluetooth audio input for easy capture of sound from a remote guest or other devices. The Vocaster One Studio and Vocaster Two Studio both include dynamic microphones and high-quality headphones along with the interface. Visit https://focusrite.com/en/vocaster for more information and videos.
Why Soundtrap for Education?
Soundtrap for Education is online/cloud-based recording and music production software. It's visually engaging, powerful, and intuitive to use. Many music educators used Soundtrap during pandemic-related school shutdowns because of its ease of use and collaboration features. The education version, Soundtrap for Education, provides the privacy and safety controls that teachers and schools demand in addition to the robust experience of the "consumer" version of Soundtrap:
Built-in 'podcast' template, so anyone can start recording right away. 
Loop library enables anyone to create custom music—essential for a quality, custom podcast!
Collaboration with your "school " network only
Teacher-determined and assigned project templates
Advanced audio editing features and eff ects with simple controls
Transcription Tool (voice recognition) provides accessibility and ease of editing
Translation Tool
How to get the curriculum
Existing MusicFirst Classroom customers already have free access to Podcasting Across the Curriculum in the MusicFirst Library. 
Soundtrap for Education customers can visit email support@musicfirst.com to request access.
Any educator – not just music teachers - can visit musicfirst.com/podcasting to request access and a free trial of MusicFirst Classroom with Soundtrap for Education.
Need some gear to get started? Contact MusicFirst for education pricing on Focusrite products. Access to the curriculum is included at no additional cost.
FREE TRAINING will be available online with Dr. Frankel in 2023. View Workshops & Events
 
Assess understanding beyond formal written evaluationsAssess understanding beyond formal written evaluationsAssess understanding beyond formal written evaluationsAssess understanding beyond formal written evaluations●
Podcasting is sometimes called the 'duct tape' of education. Purposeful audio recordings can bridge gaps in so many ways:
---
About Marjorie LoPresti
Marjorie LoPresti is Director of Content for MusicFirst and co-author of Practical Music Technology (Oxford University Press). She has over 30 years' experience teaching elementary, secondary, and undergraduate music with technology. Marj has presented clinics on general technology, brain-based learning, music technology integration and assessment to thousands of educators and is honored to have been named NJMEA Master Music Teacher and TI:ME Music Technology Teacher of the Year.